Student Life
General
Education
MSU Texas advances in U.S. News social mobility ranking
MSU Texas Marketing and Public Information

18 October 2021

1 min read
For the third consecutive year, Midwestern State University (MSU Texas) placed as a Top Performer for Social Mobility in the U.S. News & World Report "Best Colleges" rankings.
Up four places from the 2021 rankings, MSU Texas ranks No. 24 in the social mobility category. The category was added three years ago. It provides greater emphasis on outcomes for economically disadvantaged students and measures how well universities graduated students who receive federal Pell Grants.
"This recognition is another affirmation of the important work we are undertaking to positively influence the future of our graduates," Interim President James Johnston said. "We know that providing quality education that is accessible and affordable changes the trajectory of the lives of our students and their families for the better."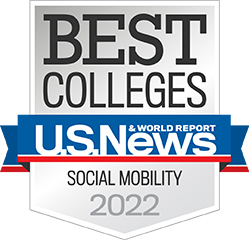 The University's commitment to the needs of first-generation students, many from households whose family incomes are less than $50,000 annually, is resulting in higher graduation rates and providing a pathway to gainful employment or advanced studies.
In Fall 2014, 422 first-time, full-time students received Pell Grants. Of those students, 42.7% graduated within six years.
The full methodology is available at U.S. News & World Report. Learn more about the MSU Texas rankings on the U.S. News Education website.
Related Posts
Education
Student Life
Boundless Opportunities
Science and Technology
Boundless Opportunities
Boundless Opportunities
Education
General
Student Life
Boundless Opportunities
Policy and Law