Science and Technology
Boundless Opportunities
1966 MSU graduate donates $55,000 for science scholarships
Kathy Floyd

01 July 2021

5 min read
Jim Worley graduated from Midwestern University 55 years ago, in 1966. If not for a four-year scholarship, he would not have been able to afford college or earn a bachelor's degree with a double major in chemistry and physics. He would not have been able to earn his doctorate from the University of Illinois, travel the world, or start his own chemical consulting company.
Now, as Worley ties up loose ends for his July 1 retirement from his company, JWW Chemical Consulting, he decided to provide opportunities for today's MSU Texas students such as the one he had. In honor of the 55th anniversary of his graduation, he has donated $55,000 to establish the Worley Family Scholarship for students majoring in chemistry, physics, geosciences, biology, or a related field.
Worley said he had wanted to do this for some time. "I am happy to help some students launch their careers as my mine is ending. I'm simply paying it forward," he said.
Marcy Brown Marsden, dean of the McCoy College of Science, Mathematics & Engineering, said these funds will help students in pre-professional programs as they aim for goals of attending medical, dental, or other professional schools. "The McCoy College is grateful to Mr. Worley for his generosity in providing scholarship funds for our students," Brown Marsden said. "We see this as an opportunity to help us support and retain our pre-professional students in biology and chemistry. With these funds, we will provide students with scholarships after completing prerequisite courses, encouraging them to pursue their academic goals."
Worley was born in Bowie, Texas, but moved to Wichita Falls when he was 9 years old. His mother ran a snow cone stand in the yard of their house on Grant Street. That may have been where he first met his wife when she was 14 years old. Before high school, he wanted to be a historian, even winning contests with essays on the Revolutionary War and the Civil War. Participation in the Science Fair program during junior high opened his eyes to the possibilities of science.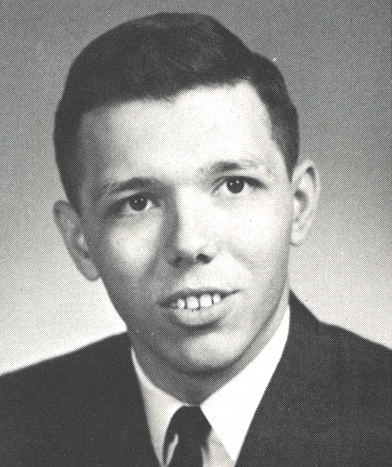 During Worley's high school senior year, his project, "Radiothermoplastic Dye Absorption in Polyethylene," advanced to the International Science Fair in Seattle, Washington. Worley became the first in his family to fly in an airplane when MSU botany professor Arthur Beyer, then head of Science Fair activities, accompanied him to Seattle. Soon after, he got a job in Beyer's greenhouse at MSU, and he received the four-year scholarship from the Hardin Foundation. In addition to becoming the first person in his family to fly in an airplane, he became the first to go to college.
Worley took chemistry classes at Midwestern University with Chemistry Department Chair Edgar Bloom. Two years later, Joe Rose joined the faculty to teach organic chemistry. Six weeks into Rose's organic chemistry class, Worley knew that's where his future was. During the summers of 1964 and 1965, he had internships at the Oak Ridge National Laboratory in Oak Ridge, Tennessee, the largest science and energy lab operated by the U.S. Department of Energy. There, Worley received important hands-on research experience. He also was in Pi Kappa Delta and Who's Who among Students in American Universities and Colleges.
During his senior year at MSU, he served as state president of the Texas Academy of Science Collegiate Academy, which included about 22 schools. He graduated in 1966 with a double major and a minor in mathematics. Three months after graduation, he married Pam Wood, the girl he had met at his mother's snow cone stand. The minister who was scheduled to perform the ceremony was sick, so Worley called a minister he knew, Travis White, who also happened to be president of MSU at the time. White performed the ceremony.
Worley went on to the University of Illinois to earn his Ph.D. in organic chemistry, studying with internationally acclaimed organic chemist Peter Beak. He found a job in Pensacola, Florida, and had even lined up an apartment. But the company ended up laying off workers instead of hiring. Three weeks after he would have started work there, a tornado hit the apartment complex where he would have lived, injuring more than 100 people. After post-doctoral work with organic chemist Max Tishler at Wesleyan University in Connecticut, he went to work for the Monsanto Company in St. Louis, Missouri and stayed for 36 years.
That airplane trip to Seattle with Beyer would be the first of many for Worley – he has traveled to more than 30 countries and made more than 60 trips to China alone. He retired from Monsanto, then worked for a short time as Global Technology Leader for Arysta LifeScience before starting his company, JWW Chemical Consulting Co. LLC. He has been an active consultant for 13 years. The Worleys have three children and five grandchildren.
Worley remembers reporting each semester to a banker in downtown Wichita Falls to review the terms of his scholarship and realizing how fortunate he was. Now, he is happy to provide the same opportunities to today's students. "I'm just giving back what was given to me," Worley said.
Boundless Opportunities
The "Boundless Opportunities" campaign theme reflects the outlook of the students, the university and the community. To learn more about the comprehensive campaign, contact Tony Vidmar at 940-397-4782 or 
tony.vidmar@msutexas.edu
.