Health and Wellness
General
Finding career in Respiratory Care was a 'blessing in disguise' for Stouard
Andy Newberry

15 March 2021

2 min read
Londyn Stouard didn't envision her eventual path at Midwestern State University as she prepares to start her career in Respiratory Care.
She found door No. 1, radiology, had a lock on it. But the key to her future fit door No. 2 perfectly.
"I'm one of the few people in the program that doesn't have a big story as to why I went into the program, I simply didn't get into the radiology program," Stouard said. "So I was advised to try respiratory by my counselor. It has been a blessing in disguise for sure. I feel like suddenly we were all a part of adult critical care no matter what part of the hospital you were in."
Stouard plans to graduate in May 2021 from MSU Texas. Getting a chance to learn in the university's newest building, Centennial Hall, was exciting for her. "That first day in Centennial felt unreal.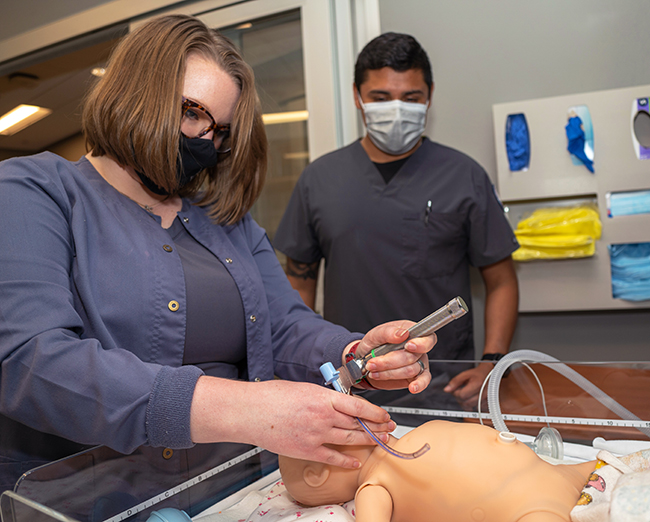 I felt like everything I worked for suddenly added up to this big event of a beautiful place to study and practice my skills as a therapist. I'm more excited for the future students since they will have an all-new experience which focuses on their ability to assess their patients. Which is way more important than any other skill they will learn. Anyone can run a vent, but not everyone is able to assess the situation and keep them from requiring the vent."
Stouard will be applying to United Regional and other hospitals as she hopes to get a full-time night shift position after graduation. She is currently working at United Regional.
"My favorite experience as a student was the first day of clinic. I was at United Regional with an amazing therapist named Heather in the ER. We ran all morning and I realized right then that I wanted to do this as a career," Stouard said. "I knew it was meant for me with never knowing what was about to happen, I absolutely fell in love."
Those who come behind her will not only have the opportunity to work in a great facility at Centennial Hall, but will find faculty and staff ready to help them find their best choice for a career. The Respiratory Care program applications are open until April 15. Visit the Respiratory Care webpage for more information.
Respiratory Care feature: Jose Sanchez