Cruz, MSU Texas shine at track nationals, conference championships
Andy Newberry

08 October 2019

3 min read
Midwestern State University's cycling team didn't have a track facility to practice at for the recent College Track Nationals in Rock Hill, South Carolina.
But MSU Cycling didn't become a consistent national contender by accepting excuses. The team thrived under pressure once again as newcomer Andrej Strmiska, from Bratislava, Slovakia, took eighth in the individual omnium, and Zach Gregg was 11th in the omnium. Gregg also earned sixth in individual pursuit, a successful follow-up to his national title in time trials in May.
MSU Texas took seventh in team pursuit.
MSU coach Charlie Zamastil said Strmiska is strong on the track, and he expects the sophomore will be one of the national-title favorites in 2020. The Texas heat was the first obstacle when Strmiska arrived in early August, and there were some jitters in his first national event for the team.
"Next year he'll be the man to beat," Zamastil said. "He topped 36 miles per hour in the scratch race."
In the scratch race, the riders use one-gear bicycles with no brakes. "The only way to speed up is to spin your legs really fast," Zamastil said. Having a track nearby isn't an option - the Superdrome track in Frisco was repurposed by Collin College - but Zamastil believes more equipment could help the team for future track seasons. "We lack the equipment; a disc wheel is worth about five seconds," he said. "The problem is that everything with those bikes is incredibly expensive. We have some wheels but not a disc wheel. That's something we hope to raise money for."
Zamastil is excited about the 2019-20 season. Gregg returned, although he has not yet completely healed from his broken collarbone. The roster includes Alan Barrows, Sharome Burton, Pavle Kalaba, Morgan Ballesteros, Daniel Barski, Rodrigo Quesada, Ben Van Winkle, Pablo Cruz, Reid Hutchins, Dominique Shepherd, Bianca Zuleta, Ramon Rueda, Brandi Hobson, and Chris Alexis Jr.
Zamastil said Barrows is "an exceptionally strong road racer and was a key element of our team pursuit. Pavle showed he was a gamer, too."
The team is preparing for the mountain bike season and will have the opportunity to stay home to host the 2019 Mustang Madness Sept. 28-29. 
"A lot of mountain bike training is still on the road for fitness, but they're on that trail a fair bit," Zamastil said. "The race Saturday will be more spectator friendly, it's about a four-minute loop, so they'll  come by more often and bunched tighter together."
Cruz won the collegiate time trial and Reid Hutchins took third. Hutchins won the collegiate cross country. The overall winner for a non-collegiate competitor from Wichita Falls, Aaron McDaniel.
Update: Cruz claimed the South Central Collegiate Cycling Conference mountain bike time trial championship on Oct. 5 in Dripping Springs. In the short track, Cruz won first and Hutchins took third place. Cruz was also first in cross country. The Collegiate Mountain Biking National Championships are set for Oct. 11-13 in Big Bear Lake, California.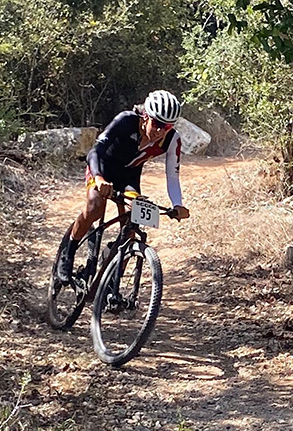 2020 Road Schedule
Feb. 8-9 − Texas State University, San Marcos
Feb. 29-March 1− Texas A&M, College Station
March 14-15 − Oklahoma University, Norman, Okla.
March 28-29 − Tulane University
April 4-5 − SCCCC Conference Championship, Wichita Falls