Student Life
Sports
General
Kalaba brothers, MSU Cycling team victorious throughout 42nd Hotter N' Hell Hundred
Andy Newberry

01 September 2023

3 min read
The 42nd Annual Hotter N' Hell Hundred bicycling race was a winning weekend for the MSU Cycling team as Pavle Kalaba, Jadiel Moreno, Mauri Maldonado, and Dušan Kalaba all won events.
The expectations are high for MSU Cycling this season after winning nationals in the criterium last spring at the Collegiate Road Cycling Nationals. With many veterans returning and some new talent, the dominance at the HHH will do nothing but add confidence and enthusiasm.
"I think it was a good weekend overall, and we won almost every category where we had riders," MSU Cycling Director Pablo Cruz Trochez said.
The team enjoyed many accomplishments last year, including the national championship, but many of those occurred away from Wichita Falls. The team enjoyed winning in front of an enthusiastic home crowd at the HHH.
"It was good to see the spectators show up, and it was one of the first years where MSU Cycling won almost everything in the criterium," Cruz Trochez said. "It was good for the fans to see our national champion wearing the stars and stripes of MSU. It was a chance to pay back the community for all they do for the team and hopefully earn even more support."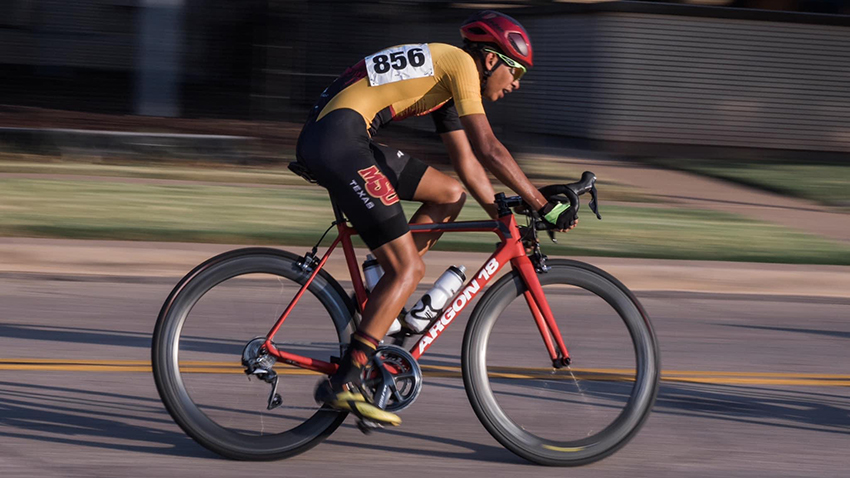 The Friday night Criterium Race Men's Pro 1-3 was a showcase for MSU, with Pavle Kalaba, Cruz Trochez, and Dušan Kalaba finishing 1-2-3. In the Men's Cat 4-5 Criterium Race, Moreno was first across the line, followed by Terry Imotichey and Joaquin Trasloheros in second and third, respectively.
Cruz Trochez, a conference champ at MSU Texas in 2019, said the teamwork of his race committee paved the way for him to compete. He was sore after three days of racing but excited to be part of the event and compete again. He claimed sixth overall. "Luckily, my race was always the last one," Cruz Trochez said. "It was challenging. The first two days, I was good, but the third day hit me, all that time working in the sun."
Back to his director mode, Cruz Trochez and the team are eying the conference mountain bike championships, where they hope to turn the tables on Texas A&M this fall.
"This year we have a chance of getting the conference championship back from Texas A&M," Cruz Trochez said. "We have a good team to represent the university. We have new talented riders and we're looking forward to seeing them develop into better riders and better students. They're really talented and will move up into our top ranks."
In other results at the HHH, Moreno took first in the Mountain Bike Novice Men, a race where MSU Texas men's basketball coach Justin Leslie finished fifth. Moreno returned Sunday to win the Criterium Men's Cat 4-5. Reid Hutchins won Cat 2 in the mountain bike race. Trasloheros was second, and MSU's Jonathan Flores was third.
Jacelyn Reno, a cycling and BMX superstar, took second in her first mountain bike race.
Maldonado was champion in the Men's Omnium Cat 3-4 and took first in the Criterium Men's Cat 3-4 on Saturday, while finishing second in Sunday's Cat 3-4 event. Imotichey was third in Saturday's race.
Dušan Kalaba won the Men's Omnium Pro 1-3, just ahead of his brother in second. Dušan Kalaba also won Saturday's Criterium Race Men's Pro 1-3 event. Pavle was third in the Criterium race on Sunday, while Dušan was seventh.
Tristan Perez placed first in Men's Novice 22-29.