General
Sports
Health and Wellness
Cycling director Pablo Cruz Trochez found a home at Midwestern State University
Andy Newberry

16 February 2023

2 min read
There was a time Pablo Cruz Trochez wouldn't have envisioned life as a college student, so being the cycling coach at Midwestern State University definitely wasn't on his radar.
He claims he wasn't a good student in high school. But he was great on his bike. He was a professional cyclist for two years before he came to MSU Texas. The transition wasn't easy. He was still learning and adapting to English.
But in retrospect his experiences gave him a good picture of what students and student-athletes need for success.
"My parents were excited when I got the opportunity to go to college, but my English wasn't very good, and I was struggling to learn to express myself with others," Cruz Trochez said. "There were two or three times I called my parents and, I wanted to go home and quit. This was different than professional cycling because you're racing and going to school."
In his words, Cruz Trochez "fell in love" with the exercise physiology program, and he loved being part of the cycling team. He was a consistent winner in his racing career for MSU, including the South Central Collegiate Cycling Mountain Bike time trial championship in 2019.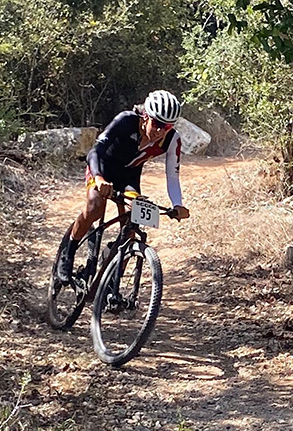 "What better way to get through school than riding my bike? And I got my master's degree, too. Being here coaching is something I would have never thought I'd be doing 10 years ago."
Former MSU Texas cycling coach Charlie Zamastil recruited Cruz to campus. And when Zamastil departed in Summer 2022, it was Cruz Trochez who was hired as program director. He got his feet wet quickly with the Hotter'N Hell Hundred and the fall mountain bike season.
Cruz Trochez hopes opportunities continue to emerge for the cycling team with more scholarships and financial support. He said the discipline required of college cycling helps students going into any profession.
 "I've always liked coaching, and I enjoy seeing people make progress," Cruz Trochez said. "Our main goal is to develop well-rounded students for their professional education and also enjoy the discipline of a sport, which will help them be good students and professionals after college."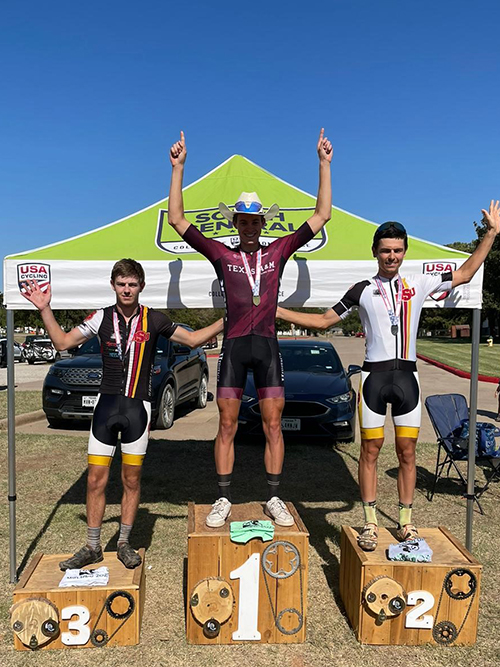 MSU Cycling eyes championship opportunities in Spring '23
MSU Texas cycling coach Pablo Cruz Trochez can't hide his excitement about the Spring 2023 season. He can't wait for the conference championships in April or the Collegiate Road Nationals in May.
His team is the reason for his optimism. Pavle and Dusan Kalaba lead a talented group of returnees from the fall mountain bike season. The brothers were first and second in the Hotter N' Hell Hundred last August and competed at nationals.
Many fresh faces bring racing experience to the team: Sabastian Restrepo from Columbia, Noah Reinetz of Belgium, and Carlos Maldonado from Honduras. "All of them are A riders who can help us compete for a championship," Cruz Trochez said. "We have a strong team. Maybe we can win a national championship again. We are healthy, and we have a big chance of winning."
The first race of the season is February 18-19 at Texas A&M, and then MSU Texas will host a racing weekend on March 4-5. That'll be followed by a race at the University of North Texas on April 1-2 and conference championships on April 15-16 at Texas State University in San Marcos. The Collegiate Road Nationals are May 5-7 in Albuquerque, New Mexico.
Another story to watch this spring is that of Jacelyn Reno of Bowie, who qualified for the BMX nationals in March. She'll juggle that schedule with helping MSU Cycling again as she did last fall with a strong season. She was recently featured in a  YouTube video, "Day in the Life of a Mass Communication and Cycling Student," by the MSU Texas channel.