Science and Technology
General
Seniors see benefits of year-long Senior Design experience
Andy Newberry

30 June 2022

3 min read
Senior Design is a program that challenges graduating engineering students each year at Midwestern State University. It's about preparation, dedication, and teamwork.
It can be fun. Or stressful. It depends on the day. Three engineering majors at the McCoy College of Science, Mathematics & Engineering recently shared their experiences in the program.
"It's given us a taste of what rushing to finish something is," Olivia Fadow said. "And about dealing with problems. I'm a bit of a perfectionist."
Fadow's partner was Skyler Leonard, and the two were tasked with the automation of a dual planetary gearing transmission using a PLC. It began with mostly working on the computer in the first semester, but they said working in the lab and seeing the mission completed was fulfilling. "To be able to see it in person is a lot more important than seeing it on the computer," Leonard said.
Senior design requires partnership, and Fadow took a leadership role. She said most of the time spent working in the lab is to provide proof of the concept. It helped her to see the reasons behind the complicated math discussed in class. "The first semester is design work, but then you can order parts, assemble it, and get data."
Fadow, from Wichita Falls, is hoping to find a job in the Austin or Waco areas after graduating in August. She said working at the new Tesla plant would be "interesting."
Leonard was excited to complete his degree at MSU Texas in May. "I'm happy to be done with this," he said. "It's been an amazing experience being in college, but I'm ready to go out in the real world. She (Olivia) is a very good student. It was about learning as we go, and I think that was helpful for future job experience."
William Loveland teamed with Ben Westwick on the Design and Control of a Gravity Compensation Mechanism for Human Lower Limb Rehabilitation. Loveland said he didn't react with excitement when he first found out about his assignment. But it grew on him "as soon as we got everything cut and assembled and seeing it modeled in person, this feels good," Loveland said.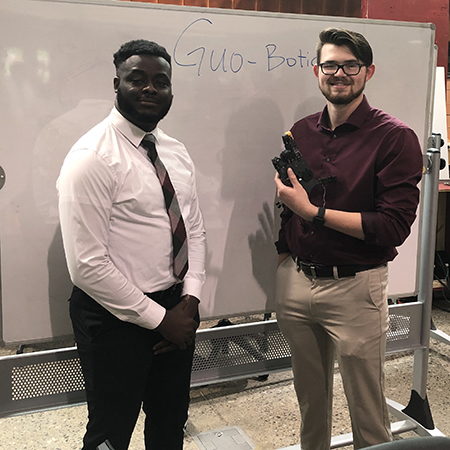 Loveland has earned a job at Howmet where he began as an intern. "Meeting new people and getting to form relationships (at MSU Texas) is what I'll remember," he said. "Finishing this presentation, it feels like I'm actually accomplishing something.
"We had to do it with wood, while most of those are documented for metal and aluminum. We more or less used that test to pull something apart and see how much it takes to break it."
 He credits Westwick for working on the theoretical portions and performing safety calculations. "The classes I've taken have helped me a lot."
2021-22 SENIOR DESIGN PROJECTS
Automation of Dual Planetary Gearing (Olivia Fadow, Skyler Leonard)
Automation of a Gear/Chain Based Transmission Using a PLC (Megan Cann, Abraham Moreno, Robert Speed)
Design of an Experimental Setup for Studies of Suck Rod Pump Leakage Issues (Jennifer Campbell, Roca Alex Martinez)
Design of Water Distributiion Tank with Calibration Controls (Anthony Boucher, Andrew Mosley)
Robust Improvements of An Existing Drilling and Reaming Kawasaki RSL005L Robot Work Cell with a Cognex Vision Inspection Using a High Level AS Language Robot Controller (Cameron Calhoun, Quentin Scharfenberg)
A fully Articulated Robot Hand (Nobedechukwu, Adam Weatherred)
A servo Driven Pendulum Oscillator (Patrick Connelly, Bailey Oddell)
Design and Control of a Gravity Compensation Mechanism for Human Lower Limb Rehabilitation (William Loveland, Benjamin Westwick)
Determination of Convection Heat Transfer Coefficients for Multiphase Flow on Different Sections of a Closed Piping System (Tyler Leonard, Benton Vidal)
Shifter Mechanism with Integrated Hand Clutch for Formula SAE Car (Louis Gonzales, Jacob Rowland, Trevor Snyder)