Student Life
Business and Government
General
Threlkeld a First-Generation success story that couldn't be silenced
Andy Newberry

15 May 2022

3 min read
Amanda Threlkeld considers her graduation from Midwestern State University in Spring 2022 a "survival story."
However, the First-Generation student did far more than survive at MSU Texas. She thrived, more than filling up the wall at her house where dad showcases her awards, plaques, and certificates of honor, including an appointment by Texas Governor Greg Abbott as the MSU Texas Student Regent.
She graduated magna cum laude from the Dillard College of Business Administration.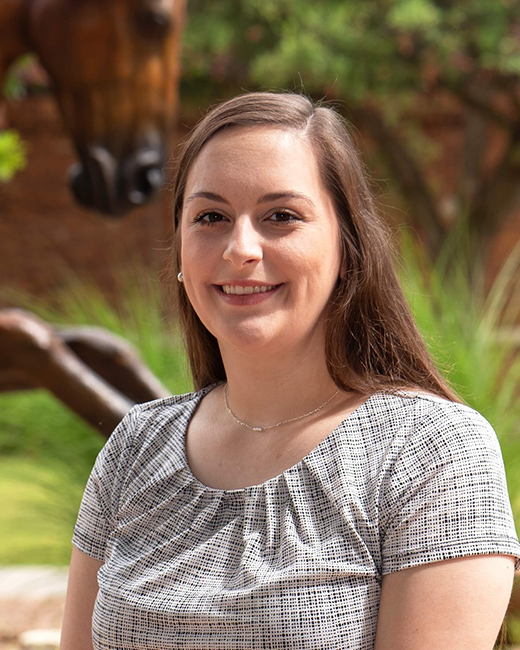 It was something not predicted for Amanda when she was born prematurely, and her parents learned she could grow up with "disabilities." A speech impediment was always there for Amanda, but she showcased her ability to overcome it. "I always struggled with it, but my voice will not be silenced," Threlkeld said. "My speech was an external disability that everyone sees, and I had to fight even harder, but it doesn't mean I'm any less qualified."
Amanda was born with ability and heart. She didn't shy away from challenges in her time at MSU Texas. She was the Honors Program Student Council President for three consecutive years, the longest tenure in the program's history. She has achieved the Hardin and Clark Scholars among her countless honors and participated in learning activities like study abroad, internships, and undergraduate research. She was the Tornado Alley Region Collegiate of the Year for Delta Sigma Pi, and for two consecutive years she was a Howard Farrell Community Service Award finalist.
As a Wichitan who graduated from Wichita Falls High School Threlkeld was able to stay at home, but she "lived" on campus. "I would be home for four hours to sleep and be back," she joked. She wanted to experience college and be a success. She wasn't going to hide at home. "I wasn't sure where I would fit in or what I could do, but I wanted to be involved and make an impact. I needed to step outside of my comfort zone, be involved and network, and give the best of my abilities."
She feels a big benefit of getting involved in so many organizations is the "emotional intelligence" gained from working together. "You figure out how people lead and how they work. It's going to help  my career."
There was a celebration at home when Threlkeld was named the last Student Regent before MSU Texas joined the Texas Tech University System in 2021. Graduation was then a time to reflect on her journey.
"It's probably the biggest achievement," Threlkeld said. "My parents are my main supporters. They have helped me in any way they can. I think this is almost like they are graduating.
"When I was named student regent, being the last and the shortest (tenure), that was a huge achievement to be appointed by the governor. Especially my dad, who is really big into politics. He was like, this is a big achievement, you represent your family, and you didn't let your values change."
Amanda's favorite places on campus included the honors lounge, reading at a table in the quad, or hanging out near Einstein's at Dillard College. MSU was "big enough" to allow Amanda to grow but "small enough to feel like a family and a community, the same as Wichita Falls."
Professor of Accounting Dr. Susan B. Anders made an impression on Threlkeld. "I absolutely loved her classes; I loved the way she taught," she said. "The personality that she brought to business material made it fun, quirky, and inviting to learn the material."
Threlkeld also said learning about nonprofit organizations inspired her. "Serving the people is where my heart is," she said. "I want to succeed for other people, not myself, and I want to make sure people around me have a good life and feel secure and safe."
Threlkeld has accepted a job with an accounting firm, Freeman Shapard and Story. "I'm stepping into a role where I'm utilizing all I've learned."