MSU Texas celebrates grand opening of Esports Lounge
Andy Newberry

05 April 2022

2 min read
The Esports & Gaming Lounge at Legacy Hall held its grand opening on March 28, and MSU Texas Esports and Mustangs Gaming Club are excited about what the future will bring for gamers on campus.
"Our opening was a celebration of our efforts since fall and what we have to look forward to in the future," said Zachary Zoet,  Esports & Gaming Coordinator. "I have never seen Legacy's MPR (Multipurpose Room) so packed or excited as last week, and it's really an affirmation of what we're doing here for our campus and the greater community. We are excited about this mission of creating enthusiastic and welcoming communities around gaming of all types."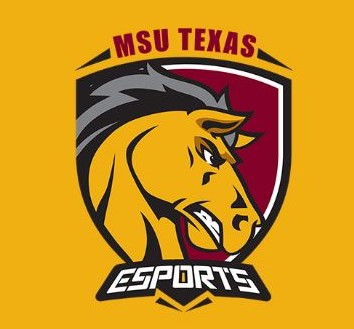 The Esports & Gaming Lounge is located on the fourth floor of Legacy Hall. The space holds 13 Alienware Aurora R12 computers. Zoet said speed is important in gaming competition, and this network has the capability for up to 300 MB of upload and download speed. No gaming computer is set without a capable graphics card, and the computers contain the NVIDIA GeForce RTX 3070 to give crisp views when playing games.
The MSU Texas Esports teams have competed in 2021-22 against the University of North Texas, Abilene Christian University, University of Arkansas, University of Oklahoma, Southern Methodist University, University of Texas-Dallas, Sam Houston State University, Oklahoma State University, and more.
The Esports program currently fields seven teams amongst four titles. There are two Apex Legends teams, two Super Smash Bros Ultimate teams, two Rocket League teams and one Overwatch team. Those competing on the varsity level are given scholarships. Currently both Rocket League and Super Smash Bros Ultimate hold varsity teams.