General
Culture and Society
Student Life
Cosplay group at MSU Texas enjoys sharing experiences with community
Andy Newberry

15 March 2022

3 min read
The fun-loving members of Anime Club, COAL, come from variety of academic fields at Midwestern State University, but they share a sense of community with their fellow members.
Three members recently took part in a convention in Wichita Falls and shared their cosplay and MSU Texas experiences.
"I think the initial thing that drew me to cosplay was just seeing how much fun the cosplayers I met were having," said Grey Chastain, a senior with a major in graphic design and a minor in drawing. "My interest in the hobby and the community has since grown and evolved, and I'd say my main reason/motivation for cosplaying now is self-expression."
Finding a comfort zone, especially with strangers, was difficult, but Chastain said cosplay really helped "me come out of my shell and comfort zone, and lets me be someone else for a while." Enji Todoroki/Endeavor from My Hero Academia are among Chastain's favorite characters.
Radiologic technologies major Tasha Fields (Salty Eevee) has been involved in cosplay for nine years. It helped her overcome an eating disorder, she said. "I started cosplaying during my sophomore year of high school to help me cope with the body dysmorphia. I thought if I turned myself into my favorite characters (anime/video games) there was no way I could hate my body. I started posting some of the selfies I took in cosplay on Instagram; I slowly started to grow a following; and started meeting some amazing people in the cosplaying community."
Fields, who also has a minor in psychology, started building props by hand and taking cosplay seriously and has done photoshoots and won awards. She has been a featured speaker as several events. Her top three charters are Himiko Toga (My Hero Academia), ZeroTwo/002 (Darling in the FRANXX), and Tohru Honda (Fruits Basket). She was able to sell cosplay prints and stickers at the collectors convention in Wichita Falls. The plans are coming together for bigger events in the future, she said.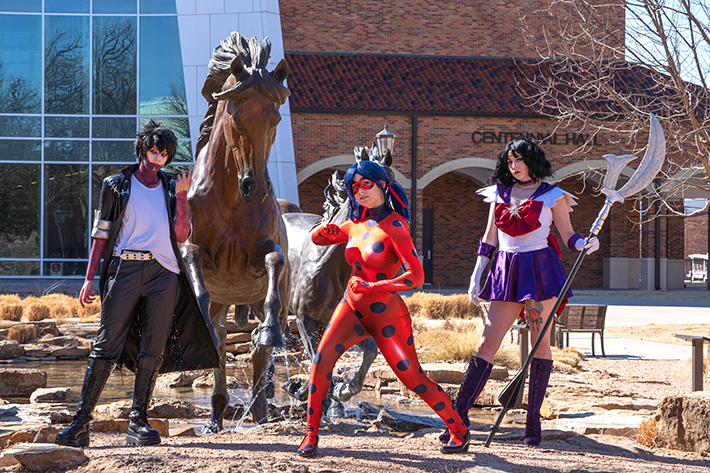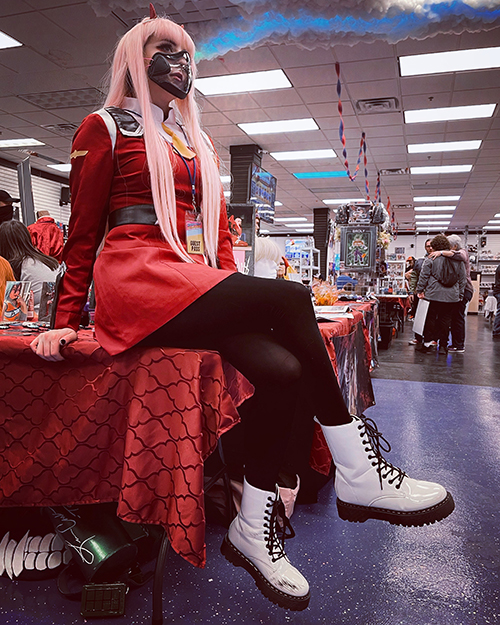 Fields considers Mitzi Lewis one of her favorite professors. "She's so kind, understanding and supportive of her students and past students. She has such a big heart. It should be mandatory that every student takes at least one class with her."
Chastain was able to speak on the process of creating props and costumes and how to manipulate foam as a costuming material. "I use various widths of EVA foam for my costumes," Chastain said. "I use a heat gun to shape the foam, contact cement to glue pieces together, and a Dremel tool/rotary tool to shape the foam pieces when needed after the basic building of the prop or costume is completed." Chastain also shares displays on @greynedox on Instagram.
Sharing knowledge is something this MSU Texas trio loves doing with the cosplay community.
Jaden Towe, a mathematics major, has been interested in cosplay since middle school. She recalls wearing an outfit from a character in the show Black Butler for her 14th birthday. "My current favorite character is Momo Yaoyorozu from My Hero Academia."
Her favorite MSU Texas activities are the anime watch parties that the Coalition of Anime Lovers (COAL) put on every two weeks. The convention in Wichita Falls reinforced how much interest in cosplay there is in the Wichita Falls area.
"If you're thinking about getting into cosplay, but are worried about money, your race, or your size just know that none of those things matter," Fields said. "Cosplaying is for everyone. There are no set requirements to join our community. Come see us at MSU's Anime Club, and we will hype you up!"