Student Life
Science and Technology
General
MSU Texas students embracing new challenge with Formula SAE team
Andy Newberry

15 February 2022

4 min read
Christopher Paulson followed a family tradition coming to MSU Texas after finishing high school in Houston. And his love for autos came at an early age. Combining those two desires was something Paulson could not have predicted. But Formula SAE at MSU Texas changed that.
Paulson saw some information about Formula SAE come across his page online. But he wasn't sure about it. He just looked at it. But soon after, he decided to take action and start the Midwestern State University Formula SAE, a group gearing up for a national competition in Michigan this May.
Work remains before showtime for the team, which is constructing the car at the outdoor education center near Sikes Lake. More than 30 members who have contributed, with 10 of them intensely involved weekly. Paulson, a sophomore, is the executive director and also serves on the suspension team.
"It's a huge program, and it wasn't easy getting started," Paulson said. "One of the good things about the program is this is a real-life job for the most part. It offers great experiences. We need marketing, we need business, we need computer science, we need electrical engineers, and we need mechanical engineers. If you'll put in the time, we're happy to have you, and you can gain real-life experience."
The experience helped sell junior mechanical engineering major Bryan Heilman on the Formula SAE.
"It is an intriguing organization and a good way to gain insight into the automotive industry as well as build my network with the engineering community," Heilman said. "Plus, who doesn't want to build a race car?"
Formula SAE is a student design competition founded in 1980 and organized by SAE International, previously known as the Society of Automotive Engineers.
"The formation of an FSAE chapter here at MSU has been strongly student-driven," said Dr. Marcy Brown Marsden, the dean of McCoy College of Science, Mathematics & Engineering. "They have found an exciting way to apply what they have learned in engineering and to engage with other universities, and I admire their organization and leadership on this project."
Each program in Formula SAE will construct a prototype race car that is evaluated for its potential to be replicated as a production item. The team is made up entirely of active MSU Texas students.
"It's everyone's first time building a car," Paulson said. "I've worked on cars since I was young, but we have a lot of new members who haven't ever worked on a car. We had one member who had never (owned) a car."
Although engineering majors are a natural for the team, Paulson emphasized that students from all fields
are welcome. There are teams within the program: Chassis, Drivetrain, Powertrain, and Suspension/Brakes.
"MSU FSAE gives me the opportunity to put my practical engineering skills to the test while working in an environment that requires real collaboration over an entire year," said Sharome Burton, junior mechanical engineering and computer science major. "I got a chance to see what engineering undergrads at other FSAE teams were doing, so joining our start-up was a must. My CAD skills have grown leaps and bounds since joining MSU FSAE. Designing parts that will be unique to our car has been the biggest catalyst to building that skillset, more so than any course I've had so far."
Each group may come up with original ideas, but the goal is to work together to complete the project. "It has to be simple; a relatively cheap and quality car," Paulson added.
While experienced clubs around the nation may only have seniors involved, some with Senior Design projects, the team at MSU Texas welcomes all classifications. Paulson hopes this year's competition will be the first in something which will become a tradition.
He was born in Wichita Falls before moving to Houston where he attended high school. But MSU Texas was in his blood, along with his interest in autos. "It's amazing to look at the competition and see kids from A&M, LSU, Vanderbilt, and big schools like that, and see MSU on there. It adds more pressure as you get recognized."
Another form of pressure is getting ready for the national competition in Michigan. The goal is to have the car ready in early March to give time for adjustments. And they have corporate sponsors who expect to see results, too.
"Building the car is the easiest part, but managing the expectations, the plans, the budget, and I would assume all of that is accurate in the real world, too," Paulson said.
Paulson had a real-world internship at Gulf States Toyota in Houston as a result of Formula SAE. He believes others in the program will see many benefits for years to come. And Brown Marsden agrees.
"I anticipate that FSAE will foster a strong interest in MSU's engineering program among prospective students," Brown Marsden said. "I also believe that the broader Wichita Falls community will see yet another way to engage with our campus via our new racing team."
The FSAE is accepting donations GoFundMe or visit the MSU Texas FSAE page for more information.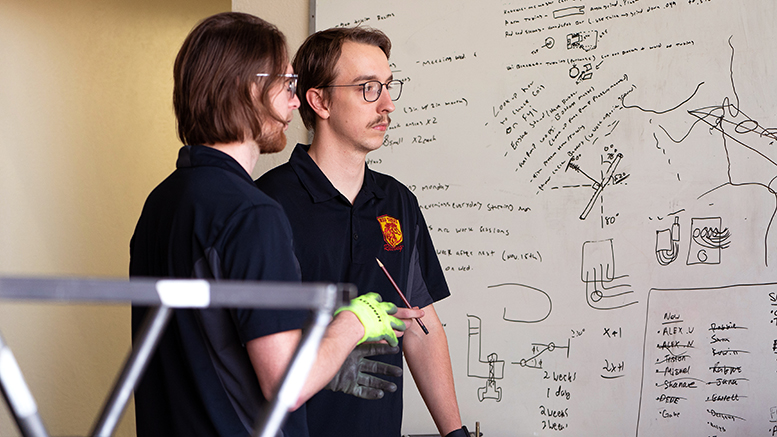 Engineering week at MSU Texas
Engineering week at MSU Texas is February 21-23.
MONDAY, FEBRUARY 21
Interactive Activities - Cockpit racing car exhibitions, NSBE Robo-lympics and more. Clark Student Center Atritum, 10 a.m.-3 p.m.
TUESDAY, FEBRUARY 22
Speaking event "Engineering Your Future" featuring Tony Pizzola, former president of SAE racing club at the University of Connecticut, 4:30-5:30 p.m.
WEDNESDAY, FEBRUARY 23
UT Dallas professor Dr. Valerio Iungo speaks on understanding the role of atmospheric turbulence for wind energy at McCoy room 136, 1-2 p.m.
Technology Career Fair to meet employers for information interviews, internships, and comployment opportunities. McCoy Lobby, 2-4 p.m.