Student Life
Policy and Law
General
Science and Technology
Mechanical engineering major found new life, great friends on campus through Priddy Scholars program
Andy Newberry

22 March 2021

2 min read
Ty Criss was motivated when he chose Midwestern State University. He was a good student at Burkburnett High School. He knew what he wanted to accomplish in the future.
But he had no idea of how long it was going to take him to get a college degree. The Priddy  Scholars program changed his life.
Criss, a sophomore mechanical engineering major, found out about the program from Deidre Frazier with the McCoy School of Science, Mathematics & Engineering. "She asked if I had heard of The Priddy Scholarship. The deadline was the next morning. She said, if I was you, I would go home and write that paper and see what happens."
Criss recalls staying up all night, but it was a worthwhile effort as he was selected for an interview and granted a scholarship into the program. "It meant everything," Criss said. "I would have been living at home, maybe taking two classes a semester, and having a job that wasn't going to pay anything."
Instead, he's an honor roll student ready to serve as vice president for the Society of Petroleum Engineers after a term as senator. Living on campus in the Legacy Hall, the program provides Criss with an opportunity to fully experience college life as he can attend a volleyball match, play intramural sports, and visit the Wellness Center.
"It gave me life," Criss said. "I have a roommate and friends who are in the program." He also has an ally in The Priddy Scholars Coordinator Joshua Ysasi. "I can go talk to Josh and it's like I have a personal relationship with someone on campus. I can talk about things going on in my life or get advice.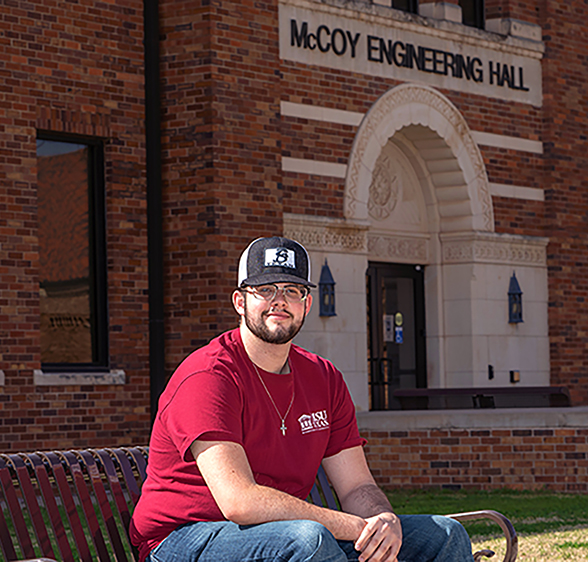 If you need help with anything, you can go over there. And I still have my family at home, but the Priddy Scholarship gave me a family on campus. Without it, I wouldn't have all these connections."
Criss has a goal of working in the oil field after he earns his degree. "I want to diagnose oil and gas wells and teach people how to use the equipment. My grandpa was a vice president at a company called Echometer. I want to fill his shoes."
His shoes look a little different this spring. He suffered an injury playing volleyball. He's taken that in stride. "My friends will see me and say there's 'Scooter Boy,' " he said. "It's a simple thing, but this made it to where I could play volleyball and participate on campus. When I go across campus, I see people I know. And I love the professors at McCoy College. It's a nice building, like a second home."
The Priddy Scholars Program provides scholarships for first-generation students, in addition to supporting students throughout their four years of education at Midwestern State University. Opportunities for The Priddy Scholars include student success workshops, career planning assistance, and study abroad.
Priddy Scholar Program applications open for incoming Fall 2021 students
The Priddy Scholar Program provides scholarships for first- generation students and support for their four years of education at Midwestern State University. Students selected as Priddy Scholars receive full tuition and residential funding. Opportunities include student success workshops, career planning assistance, and study abroad. Applications are open for Fall 2021 students. 
The application deadline is April 1. Applicants must be first-generation students starting their first year in college in Fall 2021. 
"The Priddy Scholars is more than just a scholarship," said Cammie Dean, program director. "It's a program that supports our students for all four years at MSU Texas. We're with them every step of the way -- from getting used to life and classes in the college environment to finding a career path that feels right. Being first-gen may present some challenges in navigating college, but The Priddy Scholars support system is like a bridge to help our students reach their full potential." 
Priddy Scholars already have set goals and have the drive to succeed, but the program provides them with a more complete college experience and tools for success.
"If there's one underlying theme to The Priddy Scholars program, it's GRIT," Dean said. "We talk all the time about setting goals effectively. Our workshops help students to understand the necessary steps to reach those goals, but the real challenge of college is to get up every day and make the decisions it takes to reach their goals. That work falls on the students themselves, and I'm impressed daily to see how determined and hard-working these first-gen students are."