Science and Technology
Education
MSU Texas holds Math, Science & U event for girls grades 6-8
12 November 2019

2 min read
The Math Science & U Girls Conference for young engineering students is coming to Midwestern State University Nov. 16.
The conference is for girls in grades 6-8 and features workshop sessions directed by women who work in math and science. The event will be held at the Bolin Science Hall and McCoy Engineering Hall.
The featured luncheon speaker will be Principal at NGP Energy and chemical engineer Cynthia L. Jaggi.
"This year the Math, Science & U Conference celebrates its 21st year of bringing girls to campus to learn about careers in STEM," said Dr. Margaret Brown Marsden, McCoy College of Science, Mathematics & Engineering Dean at MSU Texas. "It's a great opportunity to open up our labs and research spaces for students to see what scientists do, to meet with talented faculty and undergraduate mentors, and to think about their future potential to be a scientist, mathematician or engineer."
The workshops include "Plastic on the Ground. Plastic in the Sky?" by Kathy Quashnock; "Solidworks" by the Society of Women Engineers Student Chapter; "How to Tell an Orange from a Doughnut" by Drs. Sarah Cobb and Michelle Knox; and "01000010 is for Binary" by Amy Knowles, Instructor, Women in Computer Science Lead from New Mexico Tech.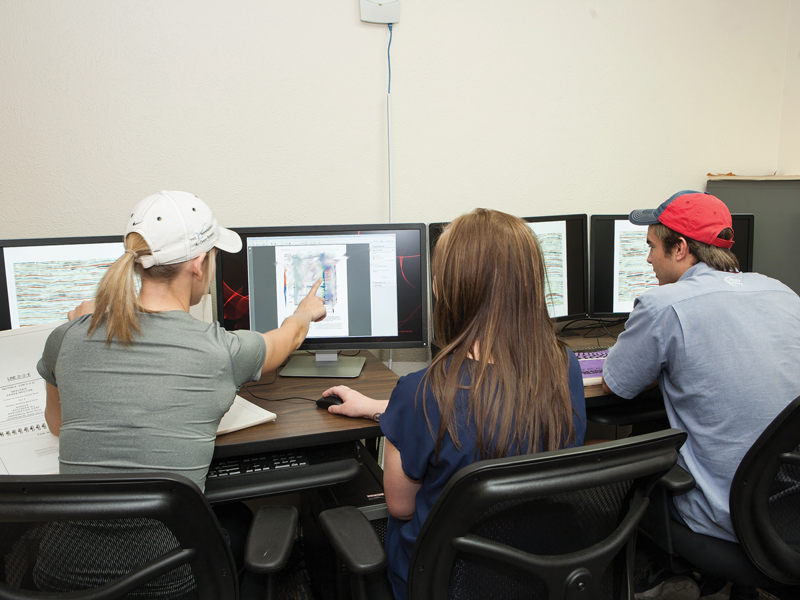 The Society of Women's Engineers group at MSU Texas is excited to be part of this event. Junior engineering student Abegail Henderson said it's a chance to show more young women that engineering can be a field for them. And the SWE recently awarded MSU Texas a charter and events like this will help those who come behind Henderson even more opportunities.
"This conference is a valuable part of MSU's outreach to the Wichita Falls and surrounding communities since it gives girls a glimpse into the way science, math and engineering work in research or a career," Brown Marsden said.
Note: The event has filled.
National Society of Black Engineers
Several MSU Texas students had a chance to attend the National Society of Black Engineers Conference in 2019. From left to right, engineering major Crege La Ronde, engineering major Carlyse Wallace, computer science major Kevin Davis, engineering major Rumelia Thomas and engineering major Timothy Jones.