Arts and Humanities
Culture and Society
Nathan Jun returned from Maui even more excited to be at MSU Texas
Andy Newberry

27 September 2019

3 min read
Nathan Jun is excited he gets to come to work at Midwestern State University every day.
Even when it was time to leave the Hawaiian Island of Maui this summer, Jun was enthusiastic about returning to MSU Texas for his 11th year.
Jun, Associate professor in Philosophy, is the 2019-2020 recipient of the Bice Faculty Support Grant, a sabbatical program that allows a faculty member to spend time in Maui, Hawaii, near Paul Bice's former home.
 "I feel like I have a lot of flexibility teaching at MSU," Jun said. "I appreciate the fact that I've always been able to instruct the way I want to. I'm one of the more research-active members, which is tough because we have a pretty intense workload, but I've always felt like I've been supported by the university on the scholarly side of things. This fellowship is a case in point."
In 2014, Jun was awarded a contract with Routledge Taylor and Francis Group and published a two-volume scholarly monograph titled The Immortal Idea. The first volume utilizes a conceptual approach to critically explore the historical origins and evolution of anarchist political ideas from the 18th century to the present. The second volume articulates an original interpretation of anarchism as a normative political theory. Jun dedicated his time in Maui to significantly revising the sixth, seventh and eighth chapters of Volume I.
Jun called his summer visit to Hawaii a "surreal" experience. He said the views were "breathtaking and gorgeous."
"When I found out about it, I was like how much work am I going to get done in Maui?" Jun said. "It definitely required discipline, but I actually got a surprising amount of work done. I kept to a schedule and set goals each day. It was quiet, and Dr. Bice had told me it wasn't about Hawaii per se, it's just about being in a space free of distractions. I think it would be irresponsible to avail oneself of that opportunity and not use it to your advantage as a scholar or an artist."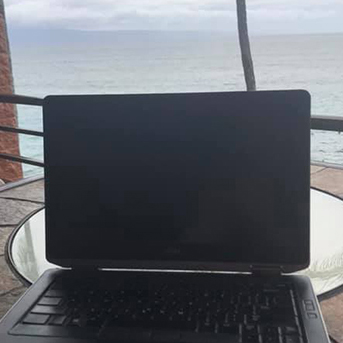 But there was plenty of time for pleasure, too. "Experiencing Maui, I made full use of those two weeks. There were tourists there, but it never felt crowded."
When it was time to come home, Jun realized he missed Wichita Falls and his dogs, too. "I started feeling like I was ready to go home, even paradise can be a prison after a while," Jun laughed.
Jun was the third MSU faculty member to enjoy that honor with the Bice Faculty Support Grant. Previous winners were Catherine Prose, Associate Professor of Art; and Dr. Susan Harvey, Chair of the Department of Music.
Bice served as a community advisor for the university's radiologic sciences program for several years, and he is a longtime member of the President's Excellence Circle. "By joining the PEC, I learned more about the opportunities at MSU," Bice said previously. "I was able to meet students and faculty, hear their stories, and learn how financial aid and grants help them."
Although Bice's discipline was rooted in the sciences, he is passionate about the development of the mind through the arts and humanities. "For the people coming to Maui, I want this to serve as inspiration and renewal of their creativity and to be a true respite for artists," Bice said.